First Federal Savings of Ohio Selects New Partnership with COCC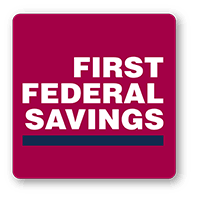 August 2018, Southington, Conn. – First Federal Savings, based in Newark, OH, has selected a new partnership with COCC for core banking services. The $220 million bank has decided to convert to COCC due to COCC's strong focus on client partnership, as well as providing the new technology that will enhance the customer experience while improving operational efficiencies.
Founded in 1934, First Federal Savings continues to thrive as a stable, well-capitalized community institution located in Central Ohio. Providing high levels of customer service, responding to the diverse needs and interests of customers, and investing in the community as well as its employees are key initiatives for the Bank.
"COCC demonstrates a genuine passion for what they do – much the same as we do at First Federal," said Paul M. Thompson, First Federal Savings President and Chief Executive Officer. "We are entering an age where we need a true partner to help us keep ahead of the pace of change, consolidation, and innovation in our industry. Forming a partnership with COCC allows us the flexibility to serve our customers and keep our institution current with technology in an ever changing environment. Culture and operational improvement were the primary drivers of our decision."
First Federal Savings, like COCC, recognizes that customer needs and demands evolve over time. This partnership presents a unique opportunity to offer new and relevant products while adopting improved solutions that allows the ability to continually offer the best in banking. In addition to converting to COCC's core processing solution, First Federal will also be utilizing COCC's digital and mobile banking products which will enhance the customer's self-service experience.
"As we continue to experience success signing new clients in Ohio, we are very much looking forward to building on this new partnership with First Federal Savings," said Richard A. Leone, Chief Executive Officer of COCC. "This growing bank will make an excellent addition to our COCC family!"
###
About First Federal Savings
When First Federal opened its doors during the Great Depression, we forged a new way of banking, establishing a safe place for people to deposit their money and providing families with access to the home loans needed to begin rebuilding their lives and community. For over 80 years, First Federal has continued working hard and pursuing excellence in service to our region. We are not just any bank. We are committed to being the stalwart financial institution upon which people can depend for honest and reliable financial services. Going the extra mile for our customers isn't just a cliché at First Federal, it's a way of life driven by our passion for seeing our neighbors grow and flourish. From home mortgage loans to retail banking services, in both challenges and celebrations, First Federal is here to help make your vision a thriving reality.
www.firstfedohio.com