COCC Hosts 2018 Annual Client Conference
With 25+ sessions, 50+ product and service partners, 100+ COCC bank and credit union clients, and 500+ attendees, the 2018 Annual Client Conference was a glowing success!
This year we convened from June 13 through 15 at the Rhode Island Convention Center and Omni Hotel in Providence for two and a half days of learning, networking, team building, and comradery.
Wednesday morning's General Session kicked off with a corporate update from Rich Leone, a product and services update from Joe Lockwood and Matt L'Heureux, and a special product highlight from Jill Flaherty and Elizabeth Montanari. COCC Executives then convened onstage for a Q&A covering topics including the future of COCC in terms of growth, revenue, and product development; FinTech advancements such as blockchain, peer-to-peer payments, and the cloud; and culture at COCC including service, diversity, and how COCC attracts top talent. That afternoon, attendees joined a wide variety of learning tracks from both COCC product experts and partners. That evening, attendees joined partners for a welcome reception featuring dinner, drinks, and live music.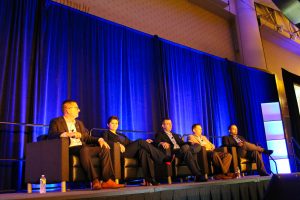 On Thursday, General Session featured a highly insightful FinTech panel discussion led by Matt L'Heureux. Panelists included Tyler McIntyre of BankNovo, Jim Slocum of OneUnited Bank, and Skye Isard of Sandbox Banking. Tom Grottke of The NBS Group (soon to be known as Crowe) gave a rousing talk on strategy in light of the current and expected environment. Finally, Brent Biernat led a panel titled All Things Secure, featuring COCC's cybersecurity experts Matt Lidestri, Jamie Perry, Steve Reis, and Darren Wilkes. More breakouts took place that afternoon with topics including COCC product updates and demos, cybersecurity, and team building. On Thursday night, COCC hosted a special dinner and game night at Dave and Buster's in the Providence Place Mall. The event featured partner's prize and raffle announcements, as well as unlimited games and tournaments for basketball, air hockey, and more.
Friday concluded the conference with more breakout tracks including a product highlight, demo of iWorkstation and SOC, and data analytics. Finally, Lisa Jacobi led a panel of financial institution leaders to discuss diversity in the workplace, which included Chandler Howard of Liberty Bank, Lorie Valle-Yanez of MassMutual, and Jacqueline Charron of PeoplesBank.
The Partners Expo, held on Wednesday and Thursday, showcased over 50 product and service partners, including our two Platinum Sponsors, Elan and Fiserv. Clients have already provided glowing feedback of the opportunities that they had to network with and learn from the wide variety of partners in attendance. COCC debuted a new booth at this year's expo, which included several demos and opportunities to win at INSIGHT trivia.
New this year, we added an upgraded app through CrowdCompass. This allowed attendees to log into the app and see their agenda right away, as well as interact with other attendees, share photos and updates to an interactive news feed, participate in the annual Partners Game, and download presentations.
We are so thrilled that this year's conference was such a success, and we are already looking forward to next year! Please be sure to save the date: June 12-14, 2019 at Foxwoods Resort & Casino!