COCC Named #2 Top Workplace and Top Management Team for Third Consecutive Year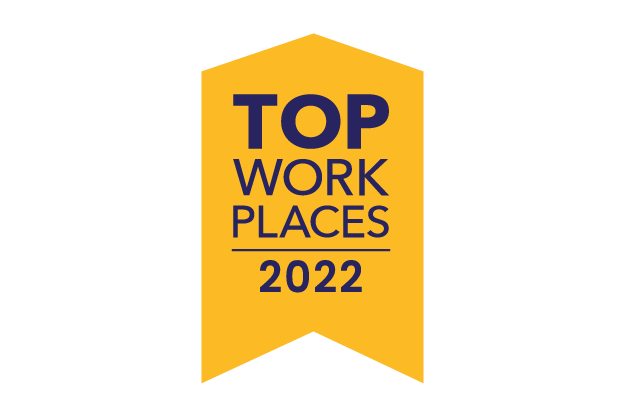 Southington, Conn. – For the third year in a row, COCC has been recognized as the #2 Top Workplace among large businesses in Connecticut according to the results of an anonymous employee survey. The Top Workplaces for 2022 were announced Thursday, September 22 at a live, in-person event at the Connecticut Science Center in Hartford.
The Top Workplace Awards, sponsored regionally by the Hartford Courant, are held annually. Honorees are selected based on the results of an employee survey and culture assessment with questions regarding leadership, company direction, management, fulfillment, employee engagement, work/life balance, and more. This year, COCC saw top scores in the areas of company ethics, communication, benefits satisfaction, and recommending COCC to others.
Also, for the third consecutive year, COCC was recognized as having the top management team, earning high marks in the areas of "my manager helps me learn and grow," "my manager makes it easier for me to do my job well," and "my manager cares about my concerns."
"We continue to benefit as an employer from the important feedback the Top Workplace survey provides us," said Richard A. Leone, Chairman & Chief Executive Officer at COCC. "Especially as we continue to adapt to changes in the workforce, it's important for us to stay in tune with how our employees are doing and what we can do to make their experience at COCC even better."
While many companies have responded to the pandemic by mandating return-to-office policies or transitioning to a fully remote model, COCC has thrived in a hybrid strategy over the past year. COCC has continued to stress the importance of flexibility: while most employees work onsite at least one day per week, 20% of COCC's workforce is fully remote, and employees can even enjoy the option of "touching down" for team collaboration and events at facilities in Southington, Avon, and Rocky Hill. By introducing a blend of onsite engagement events such as free onsite lunches every Tuesday through Thursday, food trucks, happy hours, and holiday parties at each Connecticut-based location, plus opportunities for remote employees such as a virtual CEO Roundtable, digital marketplace, and mailing holiday gifts to remote employees across the United States, COCC has been able to adapt its culture for a workforce that is not only changing, but growing rapidly as well.
COCC also continues to look ahead at ways to ensure equity and inclusion across all levels of its employee base. Earlier this year, COCC introduced Employee Resource Groups (ERGs), employee-led communities for those with common interests or backgrounds or who want to show allyship and support. To date, COCC's ERGs include LGBTQIA+; women in technology; black, indigenous, and people of color; veterans and active military; and accessibility topics. COCC will keep focusing on flexibility and ensuring that benefits, perks, activities, and other offerings are meeting the unique needs of each individual employee, rather than using a one-size-fits-all approach.
"COCC employees are truly some of the best you'll find anywhere," Mr. Leone commented. "They really are driven to support each other, our clients, and the company as a whole. I'm honored that our folks continue to find COCC such a fantastic place to work."